Quotable Quotes
May you live every day of your life.


-Jonathan Swift



Never explain. Your friends do not need it and your enemies will not believe it anyway.


-Elbert Hubbard, A Thousand and One Epigrams, 1911



Don't compromise yourself. You're all you've got.


-Janis Joplin



Speak what you think to-day in words as hard as cannon-balls and to-tomorrow speak what to-morrow thinks in hard words again, though it contradict every thing you said to-day.


-Ralph Waldo Emerson
Friends
Caryn
Debbie
Elena
KenJ
Linda
Win Lin
Venetia
XiaoZhai
YeePei
Zen
**Please leave a msg if you would like me to link you
Chat
Celebrity Sighting
Sunday, January 18, 2009
I'm really loving Townsville so far, my new place is a 5 min walk to the beach, met some really nice new friends and I'm having a ball of a time.

Recently theres been talk of Townsville soccer team trying to sign Robbie Fowler. Now I know alot of people don't know who he is, but if you are any sort of a soccer fan you should know. He's a Liverpool Legend and is the 4th highest goal scorer in premier league history.

since I was up here I decided to go to a local basketball game, Crocs vs 36ers. Long story short Crocs won easily and after the game me and the mates decided to go down to a local pub.

I darn nearly shit myself when I saw who was at the bar.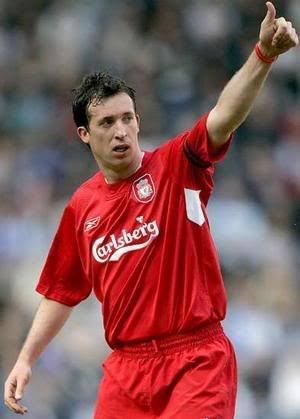 It was Robbie!! GOD!! all week I had read reports about north queensland trying to sign him and that he'd be coming to visit and I thought about how cool it would be to meet him and there he was!! the only upsetting part about meeting Robbie was that i was going to wear my Liverpool jersey out that night but decided against it at the last minute and if I had I would have had his autograph. I didn't feel comfortable asking him to sign anything else and decided not to.

He looked like he didn't want to be disturbed but he was nice enough to agree to a photo after I plucked up enough courage to talk to him.. I think i mumbled something about being a big fan and asking if he could take a picture with me... I was almost going to burst out into a rendition of 'You'll never walk alone' just to try to show him I was truly a big fan but I (rightly) decided against it.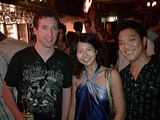 Pictures aren't great since the best thing we had was a camera phone but it came out pretty well regardless.

Sadly no one else really knew who he was and someone actually asked my friend why I was taking a photo with Robbie. When my mate told her that thats Robbie Fowler, she said 'who? the chinese guy? (pointing at me)' oh well.. just hope that Robbie didn't hear that.

GOD drinks coronas if anyone is wondering 8)
posted by adrian @ 12:03 PM